The transition period of GDPR runs out in May (if you have managed to avoid the subject until now you can get acquainted with it here). In a nutshell, GDPR gives us guidelines on how we process and manage personal data.
Basically, GDPR only reinforces what professional marketers are already doing: sending marketing material to those who want it and keeping personal data safe and secure. However, every marketer still has to ponder what GDPR means to them.
Nearly all of us have some contacts on our mailing lists that we are a little unsure of after GDPR comes into effect. There's an intense thought process going on right now on how to get existing lists as GDPR-proof as possible. Email marketing is the most profitable kind of marketing when it comes to return on investment. This means that losing a subscriber is lost income. Carefully preparing for GDPR is a whole lot better than panicking or overreacting.
There are some really good ways to accumulate GDPR-proof lists. These include form revamps that aim for transparency and explicit marketing consents, adding a double opt-in feature and opt-in campaigns that aim for getting consents.
1. Subscribe to our newsletter now! – check your subscription forms
The first step is to check newsletter and other marketing material subscription forms and sources for GDPR-compliancy. This ensures that new subscribers automatically have all the necessary information when they are added to a list, but also helps in carrying out opt-in campaigns later.
At the same time, you should also check that it truly is possible (and tempting!) to join your register from all necessary forms, so a potential subscriber won't slip away.
For example, it should be possible to join your marketing register from all of these:
Newsletter subscription form (everywhere it is: popup forms, website – remember language versions – social media, mobile applications etc.)
guide downloads
webinar sign-ups
wifi registrations
mobile application log-in
discussion forum, web store or extranet sign-ups
web store purchase
contact or tender request
club membership form
...and every other digital interaction with a customer.
What exactly are the requirements for a GDPR-compliant form?
GDPR states the following (you can read the whole regulation here):
Article 5, 1 a:
Personal data shall be:
a) processed lawfully, fairly and in a transparent manner in relation to the data subject ('lawfulness, fairness and
transparency');
b) collected for specified, explicit and legitimate purposes and not further processed in a manner that is incompatible
with those purposes;
c) adequate, relevant and limited to what is necessary in relation to the purposes for which they are processed ('data
minimisation');
And Article 7, item 2:

2. If the data subject's consent is given in the context of a written declaration which also concerns other matters, the
request for consent shall be presented in a manner which is clearly distinguishable from the other matters, in an
intelligible and easily accessible form, using clear and plain language. Any part of such a declaration which constitutes
an infringement of this Regulation shall not be binding.

The regulation itself will hardly set more strict standards to subscription forms or wording, for example. Phrasing them is left to the marketer (and often their lawyer). Surely, data security officials and marketing organizations among others make their own interpretations and recommendations. For instance, in the United Kingdom Information Commissioner's Office has made very strong suggestions. According to these instructions a request for consents should be, in addition to the lawful requirements for clarity and transparency:
Free from prefilled checkboxes
Granular, for example: "I give my consent for sending marketing material about training opportunities, but not about jobs, and not for SMS marketing."
Separate from other subjects, for example, orders (unbundled).
Even though in many European countries marketing organizations and data security officials haven't given specific instructions yet, it is still worthwhile to check your own forms – not only for new regulations but for good marketing practices. The characteristics of a good form are, for example:
Clarity – no complex language or euphemisms
No action isn't considered an action ("Choose this if you don't want to receive marketing.")
No prefilled checkboxes
Privacy policy and other data security documents can be easily viewed
Unambiguous: the subscriber easily understands what they are subscribing and from who
Convincing: it's reassuring to see a promise that data will be kept safe and won't be given to third parties.
It can also be:
Appealing: it is essentially a good thing that a responsible marketing or communications professional processes personal data. This should be advertised. Tell the recipient why it is in their interest as well that personal data is stored and processed.
Salesy: keep the big picture in mind when composing forms: it is important that the forms are not only abiding by the law and good practices but also actively selling, easy to fill and so clear that they won't lose subscribers for you. Doing a GDPR-check is the perfect opportunity to make sure your own forms are up-to-date, not only when it comes to the law but also sales aspects. Law revisions shouldn't decrease the number of subscribers but instead, increase it. Joining a marketing register is pleasant when there's more transparency and security!
Here is a sneak peek to subscription forms around the world: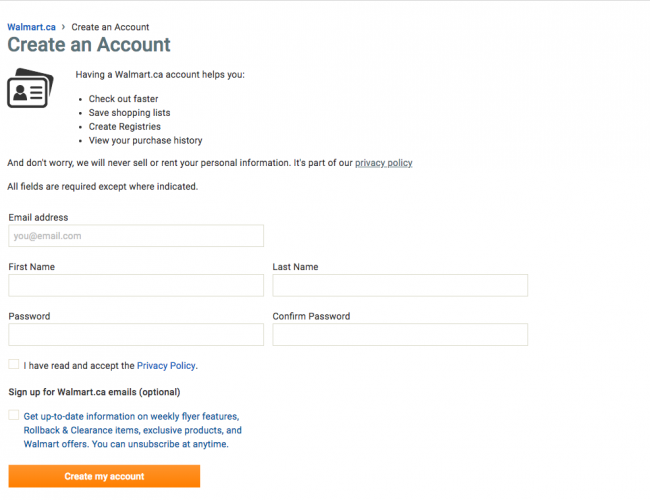 From Walmart's form, you can clearly see what kind of email marketing you will receive, which medium is used (email) and that you can exit the list whenever you want. Plus points for the Privacy policy link that you need to read and accept. Minus points, however, for not really selling or marketing.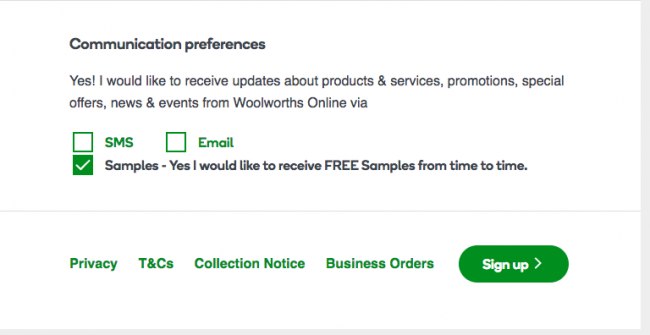 Woolworth's Australian page asks specifically which medium the subscriber wants to use for receiving messages. Plus points for the links to the privacy policy and terms and conditions. Minus points for forcing the recipient to subscribe to everything or nothing, so that someone interested in events only can't choose just them.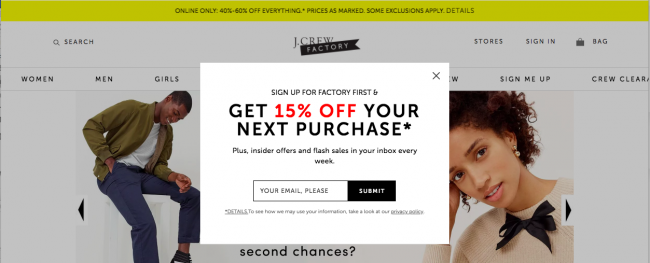 J.Crew clearly states what the information of a weekly newsletter subscriber will be used for. Plus points for succeeding in sharing a lot of valuable information in a small space (privacy policy, how often will messages be sent, what messages will contain). The form is also very tempting!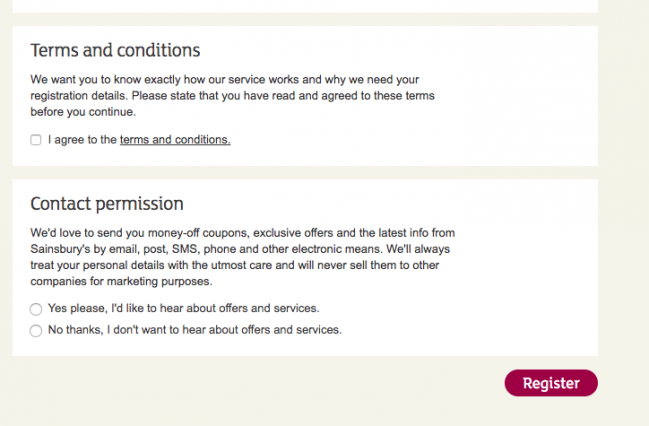 Sainbury's gets points for extreme clarity and complete circle of trust. This truly communicates that your data is safe. Wording is also very clear and active choices can be made. On the other hand, the form is heavy and doesn't exactly invite to subscribe.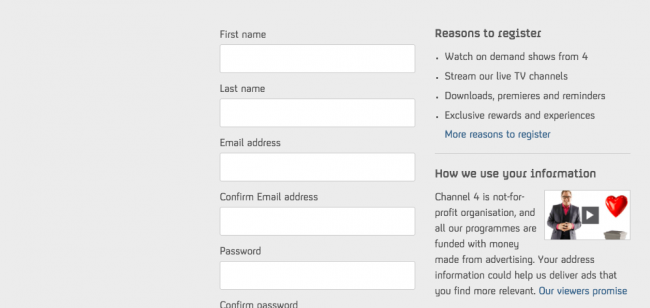 Australian Channel 4 has realized to bring forth how important it is to them that people leave their personal data and remembers to give thanks. At the same time, they clearly tell why registering is worthwhile in the first place.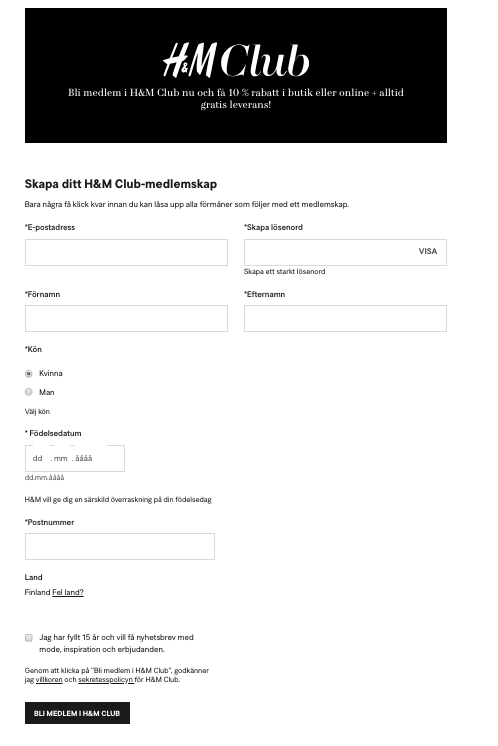 Swedish H&M gives us an example of a good and foolproof but not very sales-oriented opt-in form. The form clearly states what the newsletter is about and that it can be unsubscribed whenever. The form is also linked to a personal data security document. When asking for the subscriber's birthday they tell that a surprise is in store!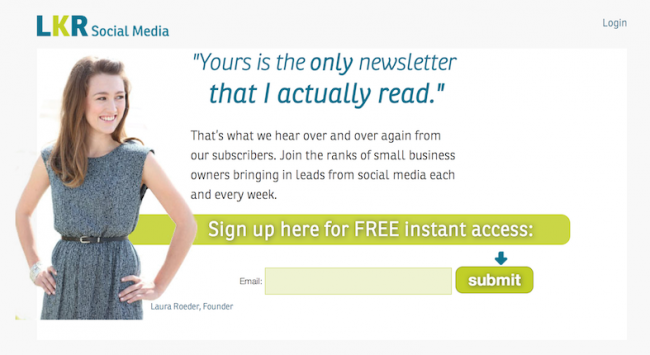 American LKR Social Media shines with their salesy and marketing-oriented approach. This is a newsletter you want to subscribe to!
2. One more step: double opt-in confirmations
Using a double opt-in, which means that the subscriber needs to confirm their email address, becomes highly recommended when GDPR comes into effect. Double opt-in enhances subscribers' data security because it ensures that no-one uses someone else's email or other personal data to subscribe to marketing material. It also prevents spamtrap addresses from making their way onto your lists.
If confirmation is necessary, share this information already on the website form, so it won't be forgotten (take your example from Australian Pram Fitness):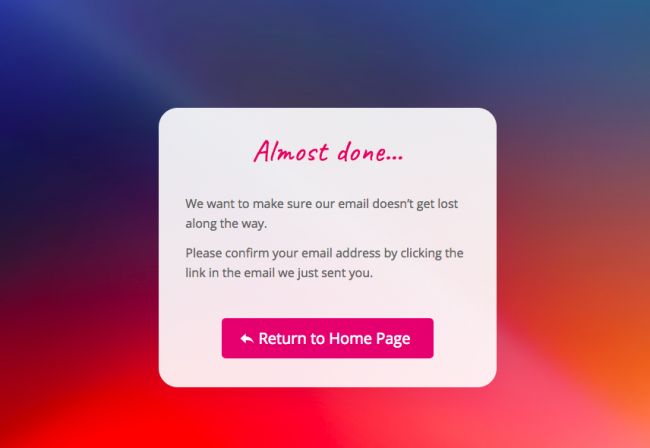 The confirmation message should also be very appealing in order to get the confirmation. Here is an example from Email Design Workshop.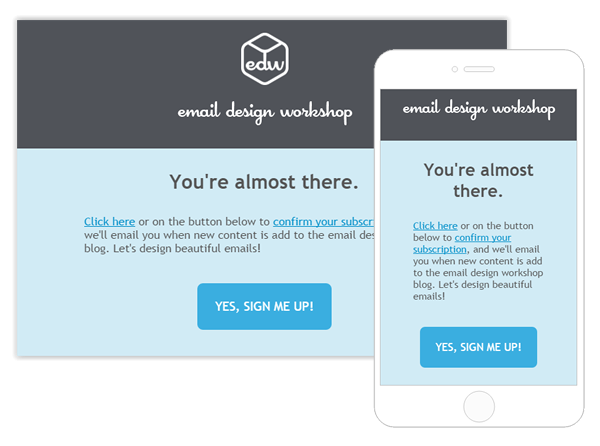 After a subscriber joins your mailing list, it's time to immediately welcome them along (and automate an onboarding campaign for the first month).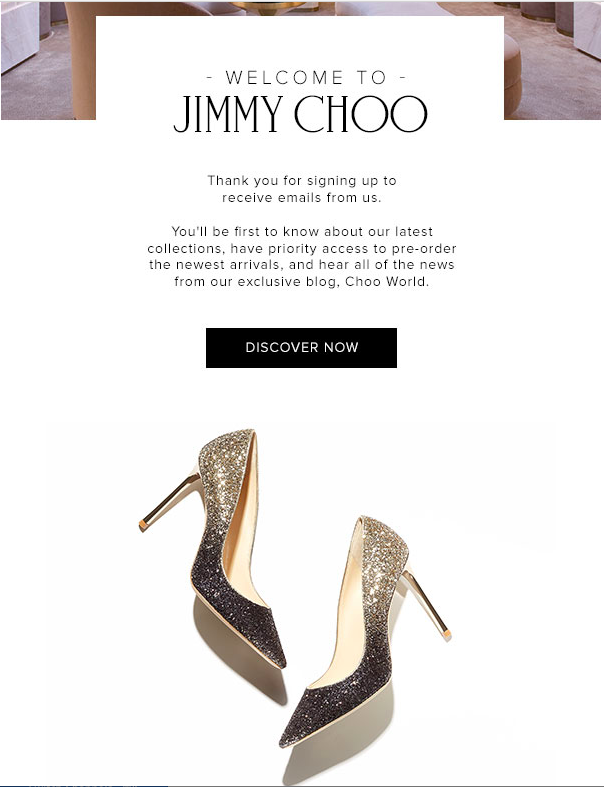 3. Opt-in campaigns
Most of the lists in marketing and communications professionals' databases are GDPR-proof: joining them has happened actively and out of free will. However, if lists consist of a lot of old contacts, whose origins are not entirely clear or they are from bought lists, you should actively aim to change these lists into opt-in-based. In other words, you should come up with really good reasons for old list members to actively want to subscribe to your marketing and communications, click "yes, I want marketing messages from you". Fortunately, there are many ways for this that both activate existing recipients but also get new people to subscribe.
1. Lure with content
Now is an excellent time to create material that you can provide with or in return for a subscription. This allows you to gather opt-ins drip by drip. Now is the time to:
create whitepapers and guides
organize webinars and events
write blog posts
offer free wifi
...and anything and everything else that is valuable and interesting enough to make customers subscribe to your marketing messages.
Remember to actively market your material to the existing subscriber database, as well as to new potential subscribers. This is one way to do it: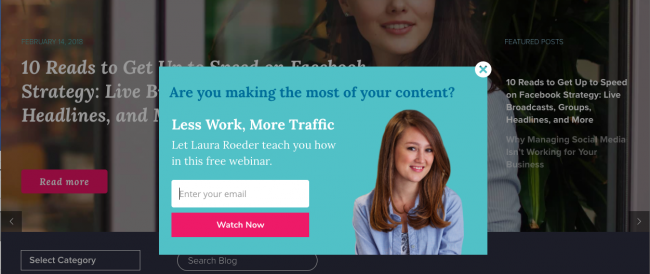 2. Customize content according to preferences
A simple way to transform old lists into active opt-in subscribers is to send the whole newsletter mailing list database a message that allows them to customize future content suitable for themselves – at the same time they register as subscribers (make sure, however, that they know this happens).
If you have previously sent all of your offers to all recipients, now give subscribers the choice on how they want offers:
only by email
only by SMS
only about women's products
only about kids' products
only once a month
always when there's an offer.
You can also direct subscribers to a separate landing page where they can choose news, for example, only about certain brands. When you automate your chains to send several messages during a few months, you improve your odds for a sizeable catch. Those that subscribe are automatically dropped from these message chains.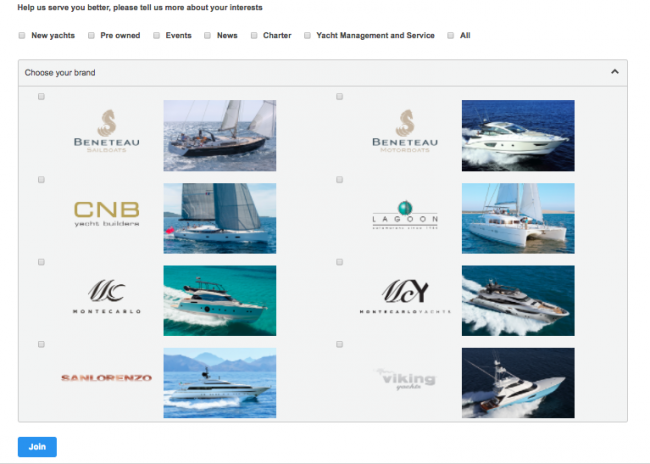 Image: Simpson Marine offers customers the possibility to receive messages only about certain brands.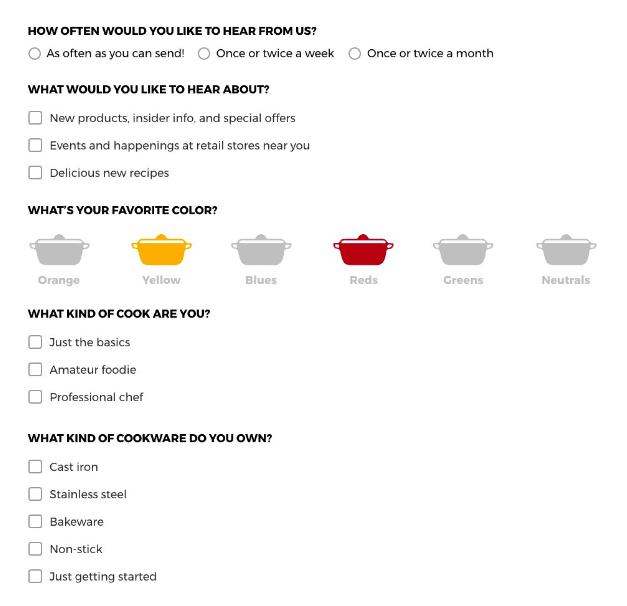 Image: Le Creuset wants to offer content that is tailored specifically to the recipient.
3. Create a subscriber club
One of the best ways to collect your opt-in register is to create a subscriber club or other loyal customer system that requires an active sign-up. Offers and other exclusive benefits will only be granted to those that sign up (for instance read Lapland Hotels' experiences about a loyal customer club here).
A club campaign is best executed as an automated email campaign where you alternate between highlighting benefits, as personalized and targeted content as possible and, naturally, removing those that have converted from the campaign chain and adding them automatically to the club's communication.
The most important thing is repetition. If you create a campaign – and automate it until the end of May for example – that reminds about all the different benefits of subscribing a newsletter and repeatedly encourages to join a mailing list, you personally don't have to worry about different lists and your opt-in list grows effortlessly.
Different things motivate different people, so jumble it up a bit. With an automation system, you can easily see what works. For example:
offers
the feeling of exclusivity
privileges: the possibility to test out or hear about new products before others
the feeling of unity: for instance, writing feedback or reviews or having discussions
bonus systems
friend recommendations.
With this campaign as well, urge people to act in order to achieve the best results. Also, make sure that the subscription page is appealing – use a separate campaign or landing page if necessary.
4. Ask
It's important to you that your subscribers won't disappear. Tell them that.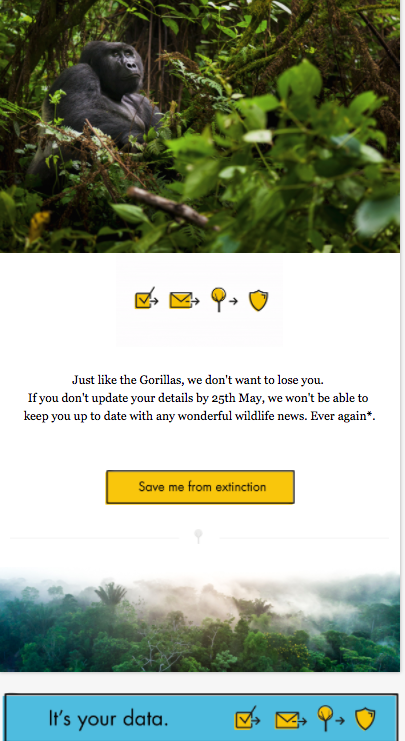 Image: CoolEarth
5. Say goodbye in style (with a salesy twist)
GDPR definitely doesn't mean that you should be getting rid of most of your lists. However, if you know that some list just won't make the cut in terms of GDPR – and you haven't been able to activate these lists in time in spite of your efforts – it's time to say goodbye. The last stage of opt-in chains should be a well-thought-out goodbye campaign – that is naturally aimed to make a subscriber stay.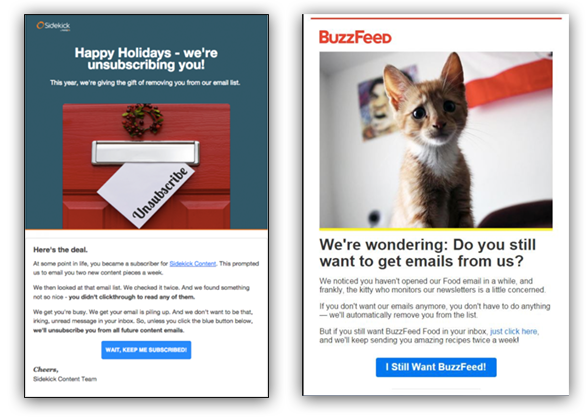 Even in the unsubscribe stage, there is still a chance to influence the exit decision: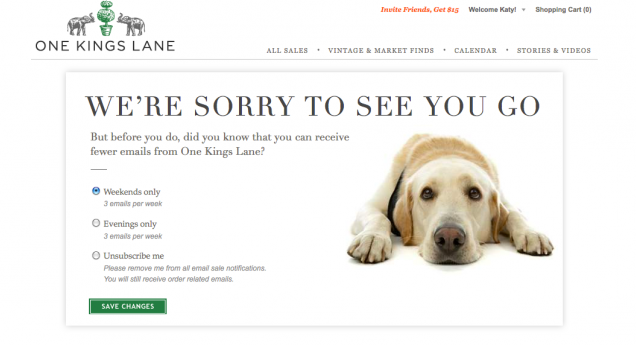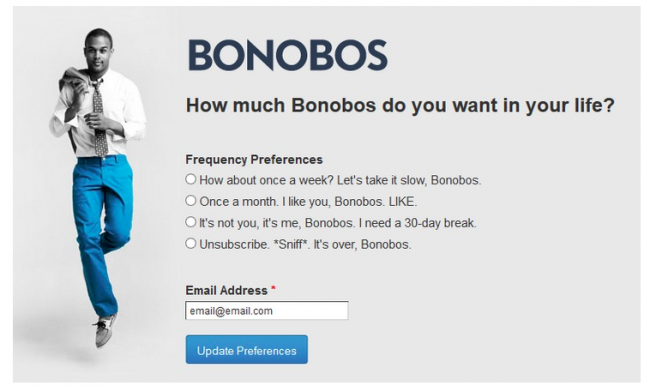 6. Marketing automation gives a hand in gathering opt-in lists
Opt-in campaigns can be done manually but handling different mailing lists, registers and regularly repeated messages without any kind of automation functions is too much for most. These campaigns work the best with a good automation system. In this case:
Different automation chains are created automatically and in advance
You can combine email and SMS marketing to achieve the desired goal
A campaign ends automatically for an individual recipient once the goal (=subscription) has been reached and the customer won't receive invitations to subscribe after this
A recipient can register to different kinds of lists and define different kinds of preferences and they are all transferred neatly on their own separate lists without manual labor
Content can be made as relevant as possible even within one message: for example by alternatively showing family vacations, couple vacations or party vacations in a certain content spot depending on the recipient
After a campaign has run its course you can possibly say your goodbyes to the non-converted – in the most selling way possible.
Read more about the subject:
The content of this article should not be considered as legal advice.