How to create interesting and current content from week to week and month to month? This question often troubles marketing and communications professionals.
Even though the company's personnel would include good bloggers or people with nifty social media skills, constantly creating new content might feel like a lot of work over time. According to the content marketing survey we conducted, especially lack of time and human resources create challenges for content creation in companies. There is motivation for creating more content, but since companies are used to doing everything in-house, current resources often aren't enough for realizing all planned content.
A concrete way to make creating content easier, is to start using a content calendar. Content calendar helps dividing content planning and creation into smaller parts, which makes the package easier to manage. It's easy to divide your own and the whole content creation team's workload and manage it time-wise for longer intervals with the calendar. Content plan compiled of bullet points only often remains a plan and either never gets implemented or has scheduling problems.
Once your content calendar is full, you will spend less time wondering what to write and instead can concentrate on creating useful content. We gathered 10 tips to help you get you started in creating your own content calendar:
1. Check your goals
Before you start creating a content calendar, make sure that you know what your goals are. Goals have a substantial effect on to whom, where and how often you publish content.
Is it meant to produce new leads, direct readers to a website, gain visibility or possibly grow the number of Facebook followers? When you know why you are producing content, you're ready to move on to the next stage.
2. Create a template for the calendar
There is an abundance of tools that offer calendar features on the web. If you don't want to use time for testing and learning new tools, start making the calendar with a simple spreadsheet. The calendar should have a share option if you're planning content together with the whole organization. For example, you can create a calendar template with the free Google Sheet tool and anyone participating in content creation can edit the sheet on their own computer.
Content calendar can be built in many different ways, but it should show at least:
In which channel the content is published?
What kind of content is published?
What is the topic of the content and what it includes?
When is the content published?
Who creates and publishes the content?
Has the content been published according to schedule?
Here is an example of what a simple content calendar template can look like: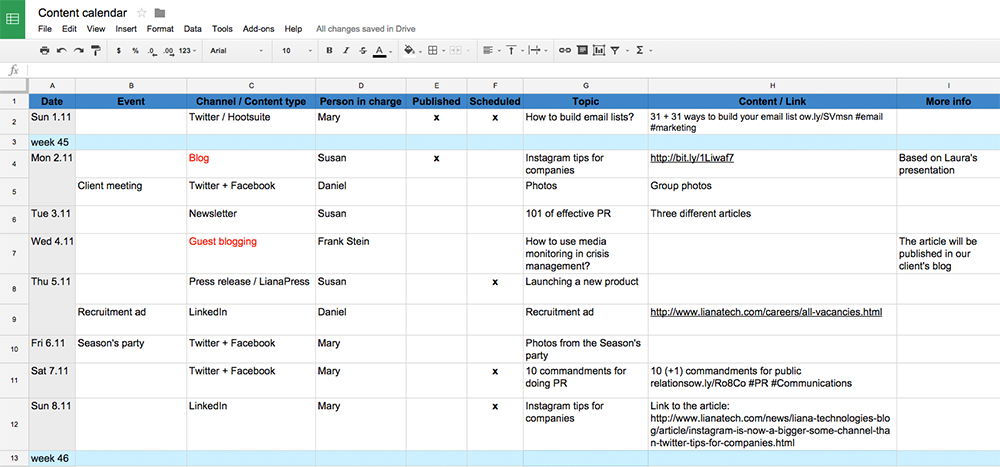 3. Choose your channels
Do you publish articles on your blog? Pictures on Instagram and Twitter? Videos on YouTube? A survey on Facebook? The most important thing is that you publish content where your customers are. So at first find out which channels your current and potential customers spend their time in.
Even though it is easy to create content for social media, don't make your content calendar merely a social media calendar. Press releases, expert articles and guest blogs should be included in your communications and marketing calendar for the year.
4. Use a real calendar
When you're filling out the calendar, start with the easy stuff. Mark down all important events that you want to build your content around – holidays, trade fairs, seminars and trainings.
5. Add your own content
Once everything related to seasons, holidays and events has been marked down in the calendar, start to fill in the blanks with other content. This content can include:
Theme posts - Are you participating in a trade fair or a seminar? Is something related to your operations the topic of discussion? Follow what is talked about in your field and grab current topics fast.
Serial posts - Are you specialized in a service that you would like to tell more about to your customers? Serial posts are a great way to educate and bring forth your expertise.
Expert articles and guest blogs regarding your services and current topics of your field
Press releases about the launch of a new product, research results or your company going international
Seasonal or holiday greetings
Videos or pictures from events, campaigns, products and projects
Customer and partner interviews in the form of a video or a case example
Interesting and funny details about the company - Who visits the office, and what goes on during coffee break?
The most challenging part of building your calendar is making sure that you have enough relevant ideas to fill your schedule.
6. Keep evergreen content at hand
Timeless content is always relevant and useful. It is not tied to a certain date or time. It's a good idea to have content in store that can be used when there are delays in the schedule. A big help in managing the calendar is that it's a place where ideas for future content can be stored quickly.
7. Make use of prior content
You don't always have to create content from scratch. Most companies have useful content in store that hasn't been utilized – data from the CRM system and customer survey results, for example. Old blog posts can also be reused and updated through different channels.
8. Decide on the publishing frequency
Think how often you can realistically publish new content. Creating content is time-consuming and it is important to choose a publishing frequency that works for you. Understanding your own boundaries is crucial to the efficiency of the calendar. If your calendar is too full, the content suffers. However, if your calendar looks too empty, it probably isn't benefiting you at all.
9. Set time limits
Set time limits when content must be published. However, content calendar is not set stone. Remember flexibility in scheduling. It's easier to move always topical content for later than to pass on fresh news.
10. Update your plan
There isn't an unambiguous answer for how long in advance content should be planned. Planning ahead depends on how fast situations change in your field of business. The main content can first be created for the whole year, and then plan weekly and daily content for the following month. You should keep in mind, however, that the further you plan your content, the better the flow of content stays uninterrupted.
Extra: Monitor how your content is received
When all the available time is used for creating and sharing content, measuring the effects of the content is often left in the background. That is why some time in the content calendar should also be devoted to examining your own operations. Which posts on social media have sparked up the most conversation, which blog posts have been shared and how much visibility your press releases have gotten in the media? Once you know what kind of content interests your readers, you can evolve and create even more interesting and committing content.
Contact our experts if you want to have PR as part of your content calendar or need help for media monitoring.